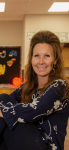 Patty Slavin
Hi, I am Patty Slavin. Teaching has been an important part of my life for over 30 years. The last 13 have been in a kindergarten classroom which is truly the best job on earth.
My passions lie in two areas, early literacy and fostering creativity. Through the learning spaces we build, the vocabulary we employ and the activities we invite kids to explore, I believe we CAN work in an environment where kids are excited and intrinsically motivated to engage.
I hope you will join me for some in-depth talk about teaching, learning, thinking, and building foundational skills in our youngest learners.