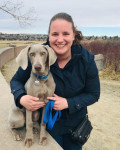 Ever Active Schools: Jenn Mireau
Background: Bachelor of Science in Kinesiology; Graduate Certificate in Leadership
Hometown: Kimberley, BC
Office: Calgary - University of Calgary, Kinesiology
I joined Ever Active Schools in 2022 as a Health & Wellness Consultant. My goal is to inspire the next generation of leaders to overcome adversity and achieve a healthy future in our community. I believe that living a healthy lifestyle is more than exercising regularly and eating well - it's also about building strong relationships, practicing emotional intelligence, connecting with your community and demonstrating kindness & gratitude.
My experience comes from a dedicated career in sport and recreation. Recently, I worked for YMCA Calgary where I provided leadership for the day camps & climbing teams across the city. I also provided meaningful experience-based learning opportunities for students and teachers through a Campus Calgary/Open Minds program called Healthy Living School.
As a Health & Wellness Consultant, I love connecting with teachers across the province through professional learning opportunities and working directly with schools and community groups through various projects.
In my spare time, you can find me outdoors! I love exploring the community, going for walks and gardening. You can also find me at a local off-leash park with my dog Sterling!
Favourite Quote: "If you are going to rise, you might as well shine."