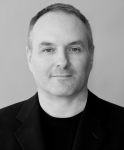 Dr. John Mighton
Dr. John Mighton, OC, is an award-winning mathematician and playwright, best-selling author, and founder of JUMP Math, who is internationally recognized for his ground-breaking work building children's confidence, skills, and success in math.

John holds a Ph.D. in mathematics from the University of Toronto, a Master's in philosophy from McMaster University and has taught mathematics at the University of Toronto. He is a lifetime Fellow of the Fields Institute for Research in Mathematical Sciences and has been awarded a Natural Sciences and Engineering Research Council (NSERC) fellowship for his post-doctoral research in knot and graph theory.
Due to the overwhelming success of this tutoring initiative, John founded JUMP Math (Junior Undiscovered Math Prodigies) in 2002 to address what he believed to be unnecessary inequities in student math achievement. JUMP Math has since grown into an award-winning charitable organization dedicated to enhancing every child's learning and life potential and addressing academic and social inequities through math education. Its evidence-based approach and comprehensive, curriculum-aligned Grades K-8 teaching resources empower educators in Canada, the US and other countries worldwide to build confidence, understanding and a love of mathematics in every student.